The snow is melting away, flowers are in bloom, and all you need is a light jacket. That's right, springtime is right around the corner. There is no better time to take a travel nursing assignment than during the beautiful months of spring.
We've hand-picked four of our favorite must-see spring travel destinations you are sure to love. Whether you're the festival-going type, a history buff, or just want to work at a top-rated hospital, we've got something for you.
California
U.S. News & World Report has nationally ranked 13 hospitals throughout the state of California. Whether you want to work in southern California, the northern parts, or somewhere in between, you're sure to find a top-performing medical facility to sharpen your skills and boost your resume. Plus, the weather in California cannot be beat!
There are several amazing cities throughout the state and it's hard for us to choose our favorites. But, you can't go wrong if you travel to one of California's most historic cities, Sacramento.
Spend your off days in Sacramento soaking in some history. The California State Railroad Museum, Croker Art Museum and California State Capitol Museum are all must-sees for those craving both a cultural experience and knowledge on The Golden State. San Jose and San Francisco are less than a 2.5-hour car ride away from the capital city and you will never be bored if you live in this region.
While the Golden Gate Bridge and Alcatraz Island may seem like obvious hot spots in San Francisco, we recommend you visit the San Francisco Bay. There is no better time than the spring to take advantage of the bay's outdoor activities like hiking, sailing, bird-watching and biking along the shores.
After checking out Sacramento and San Francisco, get your San Jose fix in the heart of Silicon Valley. There are tons of opportunities for outdoor adventures at Alum Rock Park including horseback riding and cycling on their 13 miles of trails. There are also several picnic areas and BBQ pits perfect for a relaxing springtime afternoon taking in breathtaking views.
Southern California is also covered with must-see destinations. While in San Diego, animal lovers should head over to La Jolla Cove to get up close and personal with sea lions and seals while they bask in the warm California sun. And, of course, you have to visit the world-renowned San Diego Zoo which was named the No. 1 zoo in the world by Trip Advisor.
Another great Southern California must-see is Los Angeles. Take an afternoon to shop on famous Rodeo Drive among celebrities. Ride the Ferris wheel at Santa Monica Park. Take a selfie with the iconic Hollywood sign in the background. Satisfy your inner-kid with a day trip to Disney Land (Don't forget to proudly don a pair of Mikey Mouse ears!). There is something to do on every corner of LA.
Philadelphia, PA
U.S. News & World named Philadelphia, PA to their "25 Best Places to Visit in the USA" list, and for a good reason. The City of Brotherly love is jam-packed with events, exhibits and scenery guaranteed to put a smile on your face this spring.
One big story out of Philly is the renovation of the John F. Kennedy Plaza, better known as LOVE Park. The iconic LOVE statue and its surrounding area is receiving an upgrade and will be equipped with new green space, concessions and a new water feature, just in time for glorious spring weather. Don't forget to take a picture in front of the LOVE statue—it's one of the most Instagramed places in the city.
Philadelphia is filled with historic monuments and museums. A must-see for travelers is the historic Liberty Bell. You can view the 2,080-pound bell for free at Independence National Park. History buffs should head over to the National Museum of American Jewish History. This spring, they have a special exhibit honoring "West Side Story" composer Leonard Bernstein's 100th birthday. If you're more the gaming type, The Franklin Institute opens a special showcase in March: Game Masters. This interactive exhibit lets you play over 100 different games and explore the evolution of video games from arcade to console. And, don't forget to take a trip to the cultural heart of the city, the Philadelphia Museum of Art.
Some may argue that Memorial Day falls in the summer months, while some say it is a spring holiday. Either way, we suggest spending your Memorial Day weekend on the Delaware River for Philly's annual Sail Philadelphia. This five-day event features waterfront festivities, sailing excursions and ship tours. Fun will be had by all weather you're on land, deck or water.
North Carolina
Take in some Southern hospitality in North Carolina this spring. To start, there's an amazing selection of top-notch medical facilities throughout Raleigh-Durham-Chapel Hill area—also known as "The Research Triangle." If you're looking to build your resume, or simply want to work for highly respected facilities, it's hard to beat their lineup.
If you're a sports fan, there are three universities all within 30 minutes of each other in this area of the state. Take in a basketball game at Cameron Indoor Stadium at Duke University, visit Doak Field on the campus of NC State for a relaxing baseball game, or head over UNC Chapel Hill to watch your hometown team in a sports bar while enjoying a beer or two after your shift. Sports fan will have plenty of fun in North Carolina.
As a travel destination, North Carolina offers one of the most well-rounded experiences you could want. There is the perfect combination of big-city sophistication and small-town charm. It offers a thriving arts community, world-class cuisine, rich history and an extensive collection of shopping experiences and cultural activities.
With over 300 miles of barrier island beaches, the North Carolina beach scene is as beautiful as it is relaxing. While it may be a little too chilly to lay out on the beach sunbathing, we recommend checking out the Outer Banks featuring America's tallest lighthouse, the Cape Hatteras Lighthouse. Wilmington is another attractive beach town. Here you can walk around famous boardwalk Riverwalk and soak in some history while visiting the USS North Carolina. There is something for everyone!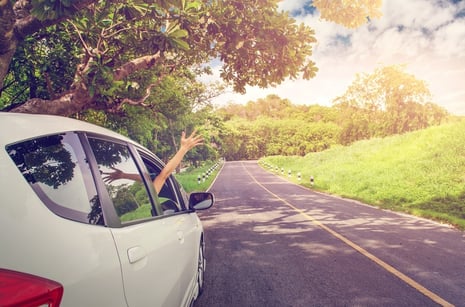 Baltimore, MD
We may be talking spring, but the travel nursing market for highly desired jobs at great facilities is hot in Baltimore. With a wide variety of public and private healthcare systems and facilities, including some of the best-known names in the country, Baltimore provides lots of professional opportunity and growth for travel nurses.
As for a great place to visit, Baltimore comes alive in the spring. Majestic mountains and awe-inspiring beaches make Baltimore one of Maryland's best attractions. But there is more to the city than Old Bay seasoned crabs and the Orioles. Its rich history, stunning architecture and charming neighborhoods make it both classic and ever-evolving.
If you're looking for a little retail therapy, Baltimore offers something for everyone. Love wandering in and out of small boutiques and shops? Try Federal Hill. Do you have more of a flair for high-end brands? Pop over to Harbor East. Each neighborhood in downtown has its own unique sense of self and style.
There are several can't-miss festivals coming to Baltimore this spring. Each weekend is filled with engaging events to enjoy on your off days with your new travel buddies. The country's first large-scale light show, Light City Baltimore, is coming in March and features illuminated art instillations along the Inner Harbor and several musical performances. And, Light City Baltimore is free! We also recommend the Beer, Bourbon and BBQ Fest. This festival features delicious barbeque, cornhole competitions and unlimited samples of beer and bourbon. Need we say more?
Springtime is truly the perfect time to take a travel assignment and experience a new city. Our top four favorite spring destinations offer something for everyone's taste. When you're not helping patients and learning new skills, use your off days to fully enjoy your new home-away-from-home with cultural experiences, spring festivals and outdoor activities. So, brush the dust off your suitcase, pack your favorite spring attire, and getting moving to your next spring adventure!