The world of travel nursing is robust, detail-driven and moves quickly. And as a result, the paperwork and preparation required for a travel nursing position can seem a bit daunting. But never fear, with a little bit of advance work, organization and punctuality, you can be on your way to your next assignment in no time.
Here are four sure-fire ways to make your on-boarding process less overwhelming and easier to manage.
Be prepared to do some work
There is paperwork involved when you start any new job, and travel nursing is no different. But, a good travel nursing agency will make the process run as smooth as possible for you. Compliance and credentialing are vital in this industry and you must follow nationwide, agency-specific and hospital-specific protocol before starting a new assignment. While all the paperwork, immunizations and applications may seem like a pain, it simply has to happen.
Everything your recruiter asks you provide is needed and they are there to help you along the way. Good news is, if you stay with one agency, you only have to fill out the bulk of the paperwork one time. Once you find a great agency, stick with them to easily move from adventure to adventure.
Build a digital file
Stay organized by keeping a file of all your immunizations, licenses, credentials, etc. in one place on your computer. We recommend keeping these files in digital formats. Take some time to scan, download, and/or upload all of your important nursing forms and place them in one folder.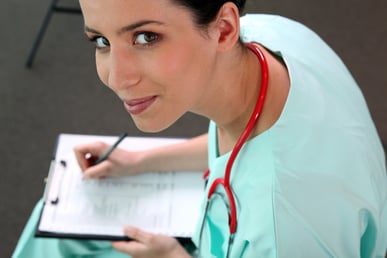 Don't waste time with fax or snail mail. It is 2018, after all. When it comes time to send-off your forms, you will thank your past-self for taking the time to put them all in one organized place. If you want to be even more tech savvy, keep your forms at your fingertips by making them readily available on your mobile device, too.
Move quickly
Now that you have all your information digitized, when it comes time to provide your files, move with a sense of urgency. The travel nursing world moves very fast. A job that is available today may not be there tomorrow.
When your agency and recruiter asks you to send in your forms, do it as soon as possible. Additionally, if you have to go in for a drug screen or psychical appointment, take care of these things as soon as you can. It will make the recruiter's job much easier, which in turn makes you one step closer to your next great assignment.
Be honest
While this probably goes without saying, be honest and provide legitimate, up-to-date information. Never lie or provide false credentials or materials. Hospitals are cracking down more than ever and are reviewing each piece of information for its validity.
If you have a specific concern about one of your files, speak with your recruiter and they will be happy to guide you in the correct direction. Don't let an expired immunization or fudge of information on an application ruin your credibility and career. It's just not worth it.
The bottom line is, with a little advanced administrative work, consolidation and timeliness, your next travel nursing assignment will be in the palm of your hands. Trust us, the preparation is well worth it!